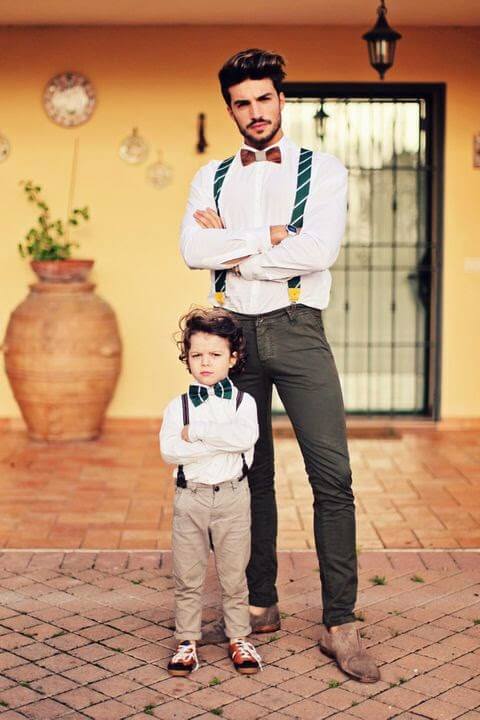 Birthdays are special, and so are our little Nieces and Nephews. This post is all about that Best first Birthday gift for nephew and niece from aunt or uncle. 1st birthday present from Aunt is always special because it is going to stay as a memory for both the kid and her/his parents. Most of the times it will be easy if they have a gift registry, that way we know what they need. But in cases where there is no registry you can try these Unique 1st birthday Present for nephew or niece from aunt / uncle. 
Having few nephews and nieces of my own, i have been through lots of confusion to get memorable gifts for them every now and then, so here i have listed few amazing first birthday presents for nephew/niece from uncle/ aunt.
Birthday Gift for Nephew
Birthday Gift for Nephew and Niece ( Age <10 )
Outdoor Swing Set and trampolines
On research i came across this amazing swing set collection in amazon. This particular brand offers different types of swing sets. you can also opt for trampolines. These gifts help your nephew to enjoy their playtime with friends as it comes with many features.
Fully Operating Model Cars
Fully operating cars are available in market now. Am sure this will make you want to play in it for a while too. It is so advanced that even an adult would somehow want to drive it and play at least once.
Gift for Nephew and Niece ( Age range 10 to 25 )
Hover boards are fun and perfect to give as a birthday gift to your nephew and niece. He can use it as a transportation medium. The fun thing is it also comes electrical self-balancing board technology. You can also opt for Smart Self Balancing Personal Transporter with Mobile App Control. 
You want you nephew or niece to be thankful to you so much?? then get this as a gift and make them jump up and down in happiness. A one time investment that can make you your nephew's favorite aunt or uncle. 
First Birthday Gifts For baby Nephew and Niece:
Gifts for the New mommy:
considering the fact that your in-law/sister is also a new mom who now has to take care of a 1 year old toddler, it would be highly appreciated if you gift a useful item. It will both stay as a memory and also as a helpful thing which they will make them remember you while using everyday.
Every Mom with a 1 year old baby will be happy to finally start going out with her baby. All these days at home caring the new born would have made her so frustrated and now that your nephew is 1 year old she would love to take him out. Stroller is a best gift option that helps the new mom big time. Now a days advanced lightweight fold-able strollers are available in market such as this.
Such type is called a Travel system, It has multiple uses like you can use it as a Car seat and also a Stroller. Many features such as Parent Tray to hold new mommy's stuff , storage basket and many more are there. If this doesn't make the new mommy happy then what will!.
Take a look at the comparison between different Full size strollers to have an idea.
Full Size Strollers

Cortina

Cortina CX
Viaro
Bravo
Newborn Enclosure
Yes
Yes
No
No
Child Tray Features
1 Cup, 1 Snack
2 Cup, 1 Snack
2 Cup, 1 Snack
2 Cup, 1 Snack
Handle Bar Height
3 Positions /
36" - 43"
3 Positions /
36" - 43"
1 Position /
40"
3 Positions / 36.5" - 42"
Basket
Rear Acces
Front & Rear Access
Front & Rear Access
Front & Rear Access
So now you niece is grown, she doesn't need to be with her mommy all the time. Lets get a nice cute and comfortable crib so that your niece can get a goodnight sleep on her own. Help the new parents have some privacy after one whole year of having their baby sleep like this
Cribs are going to be helpful for your niece, probably for next 2 to 3 years. And there are advanced cribs like this which can be used even after 3 years. It can be converted to a daytime bed also. How cool is that!!!
Gifts for Nephew and Niece (Toddler)
I know you must be thinking, gifting nephew's mom and dad is fine, but what to get my nephew for his first birthday? .It is good to show yourself as a good Sister or In-law to your niece/nephews parents, but it is also important to be remembered as that cool aunt or uncle who gave such an cute gift to their loved little ones. So here are few items which you can give your nephew /niece
Cute T shirts Gifts for Nieces and Nephews
Now there are so many T shirts for 1 year old in market. with Wordings that are funny and cute you can get such cool gifts for nephews and best gifts for baby niece. Matching T shirts are also available which both of you can wear and rock your day out.  You can get a bunch of these T shirts for your niece or nephew. You can also customize them with happy birthday wishes to your nephew . Check our post for witty funny birthday wishes for niece .I will list a few T shirts i found on Amazon here.
Click on the image for More details about each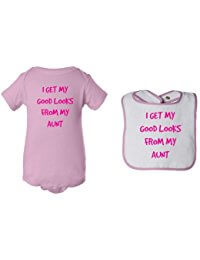 BUY NOW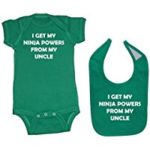 BUY NOW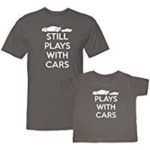 BUY NOW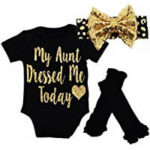 BUY NOW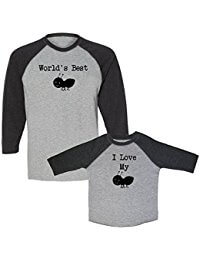 BUY NOW
You can also buy T shirt gifts from aunt to baby niece ,gifts for nephew from uncle or gifts for niece from uncle all separately since they have customized quotes for each.
Toys are one thing that all 1 year old love, they keep the kid active and teaches in multiple ways. Creative toys help your niece grow become smarter and smarter.
For an idea i have listed a few i found online,
An Indoor Swing Play Set
These swing sets are made using child friendly materials. So you don't have to worry about any sharp edges or rough sides that may damage your nephew or niece. All you have to do is pick one and let them play on it.
Musical Toys
To improve his musical senses . 
Science says that an 1 year baby will be constantly looking out for new information, and this music station will let him experiment. Who knows you may even unknowingly take a first step towards his music interest. Give this as Birthday gift for nephew to make him happy all time.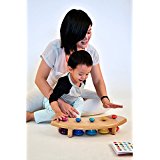 Puzzles
Gift this to teach shapes and colors. Of course we like our nephews and nieces to be smart. The happiness we get when they match all the colors and shapes in perfect order cannot be measured with words.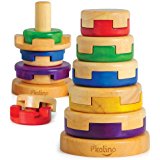 Piano Set
For the future rock star . Hop on to listen your rock star's rocking performances using this keyboard.
Soft Organic Plush Toys
give this as Birthday gift for nephew that he can play and cuddle with.
The  material with which they make these toys are child friendly. so it doesn't cause any allergies or breathing trouble when your nephew makes this toy his sleeping buddy.
Bath Toys
Photo frames to remember the moment forever 
What can be more memorable than a piece of jewelry as your memory. In addition with that you can either embed some details about you and your nephew or make it the usual jewelry. Give this as a Birthday gift for nephew or niece so that they can cherish it forever as a memory.
And finally
Teething toy is the toy that your niece can bite on. This can be a perfect Birthday gift for nephew or niece as It soothes teething babies. provides your niece with a much-needed distraction for tough teething times.
I hope you have got some idea about what to get for 1st birthday gift for Nephew or Niece. Happy shopping,  Aunts and uncles.
Also check out our other Post First Birthday Gift for Husband/Wife After Wedding
Incoming Links:
birthday gifts for nephew
Birthday gifts for niece
baby nephew gifts
Baby niece gifts
Gifts from uncle
Gifts from aunt
Summary
Reviewer
Review Date
Reviewed Item
First Birthday Gift for Nephew and Niece
Author Rating